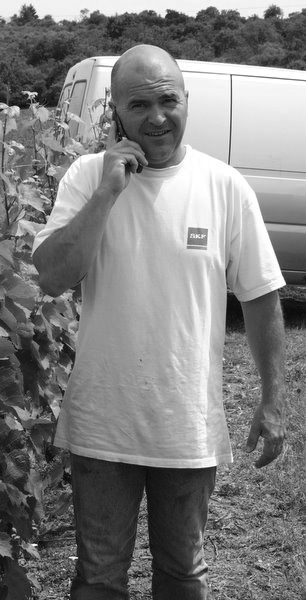 Pierre Goigoux's grandfather was not an Auvergnat, but he loved the region. He fell for a local girl, a native of Châteaugay, whose family owned a single hectare of vines which made wine for their table. They married, had two sons, both of whom went to work at the local usine Michelin. It was whilst harvesting these vines, in 1989, that Pierre found his love of wine. He was 22 years old at the time. From here, he went off to study at the Lycée in Beaune and Macon and, by 1991, he was in business with five hectares of vineyards.
His (now ex-) wife, Christine, joined him directly from Mamillat, the general agricultural college close by. They had four children together, and in 2002, Goigoux built a modern cellar at the foot of the slopes in Pompignat, a hamlet within the commune of Châteaugay.
From the original vineyard garden, he now works 17 hectares, half of which are rented, making him now a significant producer within the Côtes d'Auvergne. The largest part of his production comes from the 14 hectares he has within the cru of Châteaugay, with one hectare of Chardonnay grown on limestone soils. He generally vinifies about 10% of his Gamay as rosé. The Châteaugay rouge is a blend based on around 80/20% Gamay/Pinot Noir and he also makes a little generic appellation red too. In 2004, he took on the 1.5 hectares of vines once rented by Michel Bellard in Chanturgue, making him the single biggest producer in this tiny cru, controlling practically half of all the vines planted.
Goigoux is a busy man; busy on the phone and busy in the cellar. Small and stocky, he the right shape for balancing on the steep slopes of his Châteaugay vineyards. He's clearly driven and he's done well for himself, carving out a useful market for his wines, which are clean and precise and some of the best in the appellation.