As one of South Africa's newest producers, Alheit Vineyard declares its aim as being 'to vinify extraordinary Cape vineyards'. The fact that Chris and Suzaan Alheit set out on their venture to make only white wine, is a testament to their commitment to seek out some of the oldest vineyard blocks in the country.
Using the knowledge and contacts of leading viticulturist, Rosa Kruger, within two short years, Alheit Vineyards has established itself as the most talked about winery in the Cape, with its limited releases being highly sought-after.
Winery space is rented in shed, originally conceived as an olive oil production facility, on the Hemel-en-Aarde road out of Hermanus. Probably as far away as one could expect to be from their primary grape sources on the West Coast.
In terms of the individual wines, I can do no better than replicate the words of Chris Alheit himself:
Cartology
Our first vintage was 2011. We made one wine that year: Cartology. It was released in June 2012. It's difficult to communicate how well that wine was received without sounding egomaniacal. It far exceeded even our wildest hopes of success. I suppose it was the right wine at the right time. By December 2012 it was one of the most talked about Cape wines of the modern era. We're still a bit baffled by how quickly it all happened.
Cartology has become our staple offering. It serves as a poster child for our project. Using the best of vineyards that we work with we can make an excellent version pretty much every vintage. It's the best possible introduction to our wines.
SINGLE VINEYARD WINES
A big part of our original plan was to make single origin wines. Radio Lazarus 2012 was the first of those, shortly followed by Magnetic North in 2013. By 2017, we had seven different single origin wines. Perhaps this is too many, but we find it very exciting – most especially the way that old vine Chenin is proving to be such a good vehicle for expressing the various places it grows.
Magnetic North Mountain Makstok
This is a single vineyard bottling from a remarkable vineyard planted in the Citrusdal Mountain viticultural district (aka Skurfberg) on a high mountainous ridge at 520 meters above sea-level on very red, iron rich soil. The real kicker isn't the great view of the Cederberg nor the distant Atlantic, but the fact that this block is planted on its own roots. The rediscovery of these vineyards by Rosa Kruger some years ago was a hugely significant event for Chenin in the Cape. We are very privileged to be involved with these farmers.  
Radio Lazarus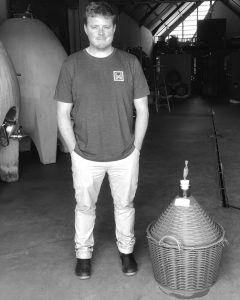 This is a single vineyard bottling for an old hilltop vineyard that we've been farming ourselves since 2010. Yields here are extremely low. It was farmed for bulk wine for decades and relatively neglected. Getting this vineyard back on its feet has required an oversupply of TLC. We persist with it because we believe in the site. It's perched at 403 m above sea level, 17 km from False Bay, and 26 km from the Atlantic. The site is cool, ripening around two weeks later than our other parcels. The Bottelary Hills are typical of the shale hills of the Western Cape. During the formation of these hills, magma (liquid granite) pushes up from below, elevating the land and baking the overlying sedimentary schist into shale, to create the stony hilltops. Radio Lazarus grows on just such a hilltop.
Sadly, the last vintage release was 2017 after which the vines were finally defeated by the three year drought.
La Colline (previously known as Arrow Heart) Semillon
This is a single vineyard bottling from the old Semillon vineyard that we've been working with from the outset. It's a wonderful, slightly temperamental old beast. Lying between 320m and 360m above sea level on a southern slope in the Franschhoek valley, the wine from this block is always good, but in a good vintage it's sublime. It was planted by the grandfather of the current farmer on La Colline farm in the year 1936. This is one of those old vineyards that, in winter, looks like a bunch of drunken people cart-wheeling across the slope. It's truly beautiful.
It also has a curious dark side: Dark skinned grapes, or Semillon Gris. This oddity still grows in some of the Cape's older vineyards, though it's virtually extinct everywhere else on the planet. This affords us a chance to make something unique to the Cape. About 10% of this vineyard is Semillon Gris (simply inter-planted with the white Semillon). Every year we separate out the Gris, and ferment it on skins for a few days before pressing. The results are strange, mostly in a good way. The wine is usually composed of 75% skin fermented Semillon Gris and 25% Semillon Blanc.
Hemelrand Vine Garden
This wine comes from the young vineyard planted on Hemelrand farm at 360 metres above sea-level on the Hemel & Aarde Ridge. It's a blend of Roussanne, Chenin, Chardonnay, Verdelho and a pinch of Muscat. This is a slow ripening site, resulting in a full flavour and high acidity. This wine exemplifies the push and pull between those two elements.  
Huilkrans
The 2017 was the first vintage we've bottled something from Oudam farm as a stand-alone wine. We've been working with the Visser family since 2011 and started planning this wine in 2015. They close the name Huilkrans, the name of a cliff on the farm that weeps when it rains. Since the untimely passing of their son, Kallie, the name now has an unintended double-meaning. Even so, they elected to keep the name unchanged.  
There is something so special about this place in the mountains – isolation, old vines, low rainfall, deep red sand over red clay. For us, the wine is absolutely thrilling. It's so typical of Skurfberg Chenin: loaded with energy, drenched with citrus, epic acid…  
Fire by Night
We've wanted to make a Paardeberg wine for some time, but I suppose we've never had the courage or confidence to do what we're doing now. The Paardeberg holds a mythical place in our minds. It's the landscape that sparked the wine revolution that's currently sweeping the Cape. What's so special about it? In a few words: pure decomposed granite soils, an abundance of old dry farmed bushvines, much of which is Chenin. Typically, the wines of the Paardeberg have a real sense of purity and clarity about them. 
Fire by Night comes from the Joubertskloof side of the mountain, from three very special parcels of Chenin Blanc grown on the Nuwedam farm, planted between 1974 and 1980. We've worked with these parcels since 2011 and feel they exemplify the beauty of the mountain. 
Nautical Dawn
In 2013 we were introduced to the Rustenhof vineyard by a friend. In my stupidity, I was not keen to work with anything lower than 300 metres above sea-level. These old Chenin parcels are very low down, very close to the False Bay coast of Stellenbosch. So close that on a clear day you can see the waves breaking. I gave them a try. By 2015, they'd become irreplaceable.
If we want to tell the story of Cape Chenin then it's paramount to show this coastline, with its poor soils and clear ocean influence. The cool southern parts of Stellenbosch are very different to the central and northern parts of the appellation, where days are warmer, and the soils are darker.
Nautical Dawn is made from two parcels that we think display the nature of False Bay Chenin perfectly. The 1978 bushvine planting on Rustenhof at 60 metres above sea-level, 4kms from the bay and the 1988 planting at Karibib at 220 metres above sea-level, 13kms from the bay. Both plots are dry farmed on granite. Both face south-east towards Cape Hangklip. There is a faint saline quality present here which foils the natural richness of the wine.