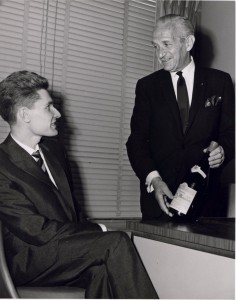 Michel Dreyfus was a Swiss-born émigré who worked in Paris as a wine and spirit salesman during the early 1930s. With the threat of Nazi occupation of France, he fled to England and, with military man, Tim Ashby they set up a wine and spirit importing business with offices on London's Regent Street.
After World War II, Dreyfus was invited to the States and established Dreyfus, Ashby & Co. Using his knowledge and expertise, he began to build one of the most respected wine and spirit agency businesses in the US. Dreyfus, Ashby & Co was acquired by a major distiller in 1957, although Michel continued to operate a separate wine division. He retired from the American company in the mid-seventies. Click here to view a biography of Michel L. Dreyfus, that accompanied a testimonial luncheon marking his retirement in 1971.
Back in England, the name was changed to Cock, Russell and Ashby in 1945. The company was traded a number of times, passing through the hands of brewers, distillers and even a shipping line at one point.
It was not until 1995, and under the guidance of Nick Clarke MW who, together with a number of its then principle suppliers (Hugel in Alsace, Paul Jaboulet Ainé in the Rhône and Joseph Drouhin in Burgundy – agencies shared with its company namesake in America), that the name of Dreyfus Ashby was resurrected.
After almost twenty years at the helm, it was in July 2014 that Nick Clarke retired, passing on the name of the company to his fellow Master of Wine, Richard Kelley.