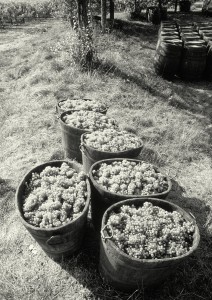 My first encounter with the wines of Moulin Touchais dates back to the early days of my love affair with the Loire. I discovered, quite by chance, that wonderful old vintages of Moulin Touchais were available, for not very much money, from a makeshift cellar inside the shop of the local Texaco garage in Doué-La-Fontaine. I used to make a point of going and filling up with fuel there, buying a few old bottles at the same time. Whilst I may never have considered them to be the best wines from the Layon, it was always difficult to pass over the opportunity of buying vintages that predate one's own birth. So, for the past thirty years I have known of Moulin Touchais, but very little about Moulin Touchais.
Speaking more recently to other merchants who remember the wines from old, they were viewed with a degree of suspicion. How was it that 'unlimited' amounts of pristine-looking stock could be so readily available?  The answer is innocently apparent, since each bottle is labelled to order and old vintages are checked and reconditioned (topped up with the same vintage and given a new cork) before they are despatched. Personally, I like to think of Moulin Touchais as the Loire's equivalent to Château Musar.
Even now, its location appears to remain somewhat confidential. On a quiet street within the town, with the cellar located at an address behind a dilapidated bourgeois house in an unremarkable concrete edifice. Clearly, Vignobles Touchais successfully succeeds in concealing itself from the outside world and there remains a sense of mystery around the industry that goes on here and in the network of 15 kilometres of tunnels that run below your feet.
The cellars here must contain one of the largest and oldest collections of any winery anywhere in the world, with the miles of underground cellars containing close to two million bottles at any one time, including a rare collection of ancient wines; the oldest dating back to the mid to late 19th century.
History documents that the first sweet wines were produced along the banks of the Layon in 1579, with Dutch merchants encouraging their production, since they appeared to have the stamina to survive the journey by boat back to the Low Countries. Whilst the family Touchais cannot claim to have pioneered the production of moelleux, their ancestors were certainly making wine as far back as 1787. That's eight generations so far, and counting… The first six were situated not within the town, but in Tigné, the location of the original Moulin and it was from here that the original vineyard holding was built up, mostly to support the requirements for Cuisse de Bergère, a hugely successful inexpensive branded rosé that was developed by Joseph Touchais in the late 1940s and around the same period the business was transferred to the cellars in Doué-La-Fontaine.
The family still own an impressive 150 hectares of vines, spanning the communes of Tigné and Martigné-Briand, although the death of Joseph ten years ago saw the company split into two divisions; Vignobles Touchais, which retains 35 hectares of Chenin Blanc in the Coteaux-du-Layon appellation for the continued production of Moulin Touchais, whilst the other, Vin Touchais, is a trading company responsible for selling off the balance of the production in bulk to the larger Loire négoce; which is mostly vinified as base wine for Méthode Traditionelle.
The current incumbent is the 61 year old Jean-Marie Touchais, who took complete control of the winemaking from his father in 1990. Little has changed in the viticulture and vinification process and Jean-Marie continues with the traditional values of low yields, hand harvesting and a long, slow fermentation. The general principle behind the picking of grapes for Moulin Touchais is that around one-quarter of the crop is harvested relatively early (about 80 days after flowering) and whilst the fruit is slightly under-ripe. This component part helps to maintain the acidity in the final blend.
The balance is then picked up to 120 days following flowering, ensuring the grapes are loaded with sugar although not generally affected by noble rot, the reason being that the Touchais vines are at the back of the Coteaux du Layon appellation and away from the river where there is less humidity to encourage the botrytis spores.
The wine is then committed to bottle early – as soon as March the following vintage – and allowed to age for a minimum of ten years in the cellars before release.
Whilst a Coteaux-du-Layon is produced in the cellar every year, it is not systematic that each vintage will be released under the Moulin Touchais label. Typically, the wines all contain between 70 and 80 grams of residual sugar and, like with many other similar examples from the Loire, they only really come into their own after two decades in bottle. The greatest vintages for Moulin Touchais correspond to the best years in the Loire (they also tend to produce the largest quantities too) and legends include the 1945, 1947, 1949, 1953 and 1959, 1961, 1964 and 1969. Sadly, these are no longer commercially available, but occasionally crop up on tasting and at auction. Apparently, the 1959 vintage was so copious that the cellar only stopped the sale of this vintage commercially as recently as 2006!
The good news, however, is that the cellar is still able to offer a wealth of back-vintages which span the years from 2004 (the current release) back to 1971.
THE WINES:
Vintage 2005
Released in January 1995, this will prove to be the vintage of the decade and is priced accordingly by Jean-Marie Touchais. It's even better that the already highly-lauded 2003 vintage. Like most great Moulin Touchais releases, this is already a delight to drink now but could be expected to improve further with age and remain on a long plateau for longer than most of us will remain on this planet. This is expensive by the cellar's standards, but is a snip in comparison to current Sauternes pricing. Not to be missed.
Vintage 2004
Released in January 2014. A difficult season and something of a surprise to learn that this vintage would provide a commercial release at all. The wine itself is commendable, but not inspirational. Drinking well now, it could be expected to age for many more years, but I remain unconvinced as to whether it will actually improve. Suitable for relevant anniversaries, but there are more interesting wines available in the cellar.
Vintage 2003
The year of the heatwave. It was not difficult to make sweet wine this year, although with such and long, dry and intensely hot summer, there was little prospect of any botrytis developing this season. The resulting wine is lush and sexy. Immediately approachable, it is perhaps one of the greatest Moulin Touchais releases ever. The texture and density will ensure that this has a very long and enjoyable drinking window.
Vintage 2002
Described by Jean-Michel Touchais as a petit millesime, this is an attractive 'old fashioned' style Coteaux-du-Layon with very good balance which is clean, juicy and fresh. This appears drier due to the higher acidity. Whilst approachable now, it would benefit from further ageing. Despite the reputation, this is a good effort for the year and well-priced too. One for the cellar… 
Vintage 2001
Deep appearance suggests some botrytis influence. The nose is a bit backward and dull. The palate is rich and powerful but also a little awkward and one feels that this still needs to come together. This is approachable now, but less distinguished and would probably benefit with a little more age.
Vintage 2000
A small release with just 8,000 bottles produced. A pale appearance with some youthful green hints. This is a little rustic and shows the weakness of the vintage. Broad, but a little simple and short on the finish. There is some evidence of ageing and whilst this will hold for years to come, it probably won't improve.
Vintage 1999
Clean but muted nose. Fresh on entry and well balanced with good acid balance. It is delicate, but displays a degree of complexity. This is much better than the conditions of the vintage suggest. It probably won't improve further, but is drinking well now. It would certainly be a candidate for pouring by the glass. A pleasant surprise.
Vintage 1998
There is some evidence of reduction on the nose and palate which explains the pale green appearance. The reduction has also given the wine a drier edge and a sense of minerality. Well textured and not cloying. This is another undistinguished vintage, but one that is capable of ageing further and best decanted if drinking now, but there are better options for current consumption.
Vintage 1997
Along with 1990 and 1996, the 1997 is one of the best three vintages of the decade. Rich, open and textured nose with some botrytis elements. This shows its distinction. Rich and lush on entry with great texture and poise. Excellent acid balance, focus and length. This is already approachable but will age and continue to evolve for many years to come. Top wine – top vintage.
Vintage 1996
This is still quite muted on the nose, but the palate speaks for itself. Ripe and tropical in style, it also has some young Riesling notes. Powerful, rich and concentrated, but displays excellent balance. Seductive and certainly approachable now, this is going to have a very wide drinking window since it will continue to develop and age for decades to come. It also represents the best value in the whole cellar.
Vintage 1994
This was a very 'humid' vintage and one that was reduced by late frost. Picked with a combination of botrytis and dried berries. This wine has again been well preserved by some reduction, which accounts for the pale appearance and the slightly drier style. The fruit is masked somewhat, but the wine is distinguished by the firm, juicy acidity which carries the finish. This is more an aperitif than a dessert wine. It is approachable now but will continue to age. No rush. A vintage for lovers of acidity.
Vintage 1991
It is now rare to find examples of this vintage, since it was a year devastated by frost. Clean but open nose, but somewhat broad and simple on the palate. It shows some power and concentration and is a bit clumsy and dull. This will hold if not improve. Suitable for birth year anniversaries and it won't embarrass, but there are better wines available. The relatively high price is a function of protecting the small amount of stock which remains in the cellar and is certainly not a reflection of its inherent quality.
Vintage 1986
Polished, deep yellow-gold. The nose is muted and withdrawn, I suspect this showed some reduction in its youth, but has since emerged. The palate is light on entry but builds well to a relatively powerful finish. There is some complexity here, with the wine developing some calvados like flavours. Drinking now and unlikely to improve. Decent.
Vintage 1985
There is a noticeable difference in colour here. Very deep, old gold and clearly a wine marked by botrytis. This is evolved, but has probably been on this plateau of development for years. There are notes of caramel on the nose. Open and expressive. Delicate and elegant on entry, it builds well with a notable thread of acidity running through the wine. Persistent and powerful finish. This is drinking now but will continue to hold for many more years. It remains my favourite wine of the decade, developing savoury and a saline character once opened.
Vintage 1984
A pretty dreadful vintage, but the resulting wine is a real surprise. Preserved by the high level of acidity, the nose is subdued and a bit rustic and old fashioned. The palate is bright, open, clean and fresh with a layer of complexity with a lovely structure. It appears much drier than it actually is. Certainly not a dessert wine, it would be more suited as an aperitif or with a savoury dish. This will hold if not improve. It's authentic mature Chenin and an example of how the poorest vintages on paper don't always produce the poorest wine. I love this wine, but as a caveat, I'd proclaim this is a vintage that I'd only propose to real lovers of old Chenin!
Vintage 1983
'Rediscovered' in the cellar in January 2013, after customers were calling enquiring after thirty year old anniversary bottles. It was dismissed by Joseph Touchais as not being worthy, even though he had elected to bottle the wine regardless in the spring of 1984. After reconditioning, the final number of commercially saleable wine was set at around 12,000 bottles. It's certainly mature and I don't believe will improve any further, but now on a long plateau. Not massively sweet, it also carries a few savoury edges.
Vintage 1982
Deep orange-gold. Dull and earthy with some 'wet wool' character to the nose and clearly a wine affected by botrytis. The palate is broad with flavours of bruised apples and calvados. This is quite firm still and a little hot on the finish. It also shows some high toned acidity which tips it over the edge a little. Disappointing – I expected more of this. Hopefully this was just a poor bottle, but it comes with a caveat.
Vintage 1981
Another recent re-release in mid-2014. I had been informed by the cellar that it was sold out. It's a modest wine, closer to demi-sec in style, the sweetness appearing to have deserted it some years ago. Still decent, but not inspiring. Useful for anniversaries and birth-year vintages.
Vintage 1980
A disgraceful year. Taut and drier in style with the sugar now diminishing, this won't improve, but I'd still recommend that Chenin lovers take a punt on it. If nothing else, it's rare to find anything still drinkable in this vintage!
Vintage 1979
Deep orange-gold. A bit old fashioned and a little cheesy-savoury on the nose and shows some heat. Broad and immediate on the entry, this is a wine built more on power that elegance. A touch phenolic, the wine is just beginning to dry out, although remains completely drinkable. Mature, baked apple flavours with notes of old Armagnac and toffee apple on the finish. This won't improve, but it should continue to hold. Decent.
Vintage 1975
Polished, deep orange-gold. The nose remains a little restrained, with hints of smoke and toffee. The palate is altogether different. This wine (considered by some tasters as the best wine in the tasting) is distinguished by its fantastic acid balance which helps carry the wine through to a persistent finish. Almost lime-juice like juicy acidity. A great wine, that whilst drinking now will continue to hold for decades to come.
Vintage 1971                                       
Deep orange-gold. This has an attractive and complex baked apple nose with hints of spice and caramel. The palate is complex, powerful and concentrated and, like the 1975, is distinguished by the high level of acidity. Highly textured, with a russet-apple and quince like presence, this is still positively youthful. It has been preserved by the acidity and will continue to hold for years to come. It deserves to be in the cellar of all true Chenin lovers.
Vintage 1968                                       
Deep orange -moving towards mahogany – in appearance. This is a recent re-release from a small parcel discovered in the cellar in mid-2014 by Jean-Marie. Euphemistically referred to by Hubrecht Duijker as 'Unsuccessful' in his (1981) book 'The Loire, Alsace and Champagne', the 1968 vintage doesn't even warrant a mention in Michael Broadbent's 'Vintage Wine'. I had my doubt when I was first informed of its reappearance, but to be fair, the wine is perfectly decent, if not great. Even Joseph Touchais couldn't have thought too much about its potential at the time, electing to bottle the wine is an assortment of left-over bottles in the cellar. Every bottle at the time of re-conditioning appeared to be different. Stylistically, it is closer to a year like 1986 (an interesting observation, since one simply has to reverse the last two digits), being quite rich but monotone. It certainly lacks the vive and freshness of the 1971 and 1975 vintages. It's also become the most expensive of the wines commercially available. At least anniversary seekers can at least find something half decent to celebrate their 50th with in 2018… Drink or hold, but this won't improve.
In brief:
The best wines: 2005, 2003, 2002, 1997, 1996, 1985, 1984, 1975, 1971
Where the smart money is: 2005, 2003, 2002, 1996, 1984, 1975, 1971
For lovers of 'proper' Chenin only: 1994, 1986, 1984, 1982, 1981, 1980, 1968
For pouring now: 1999, 1996, 1985, 1983, 1979, 1968
For the cellar: 2005, 2003, 2002, 1997, 1996, 1975, 1971