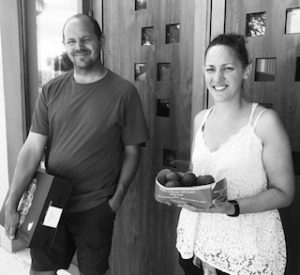 The Chevalier family are polyculturalists who, apart from cultivating vineyards, farm the other crop famous in the region: apricots. Until 2009, they delivered all their grapes to the co-operative in Tain which, ironically, their ancestors had helped to create 100 years before. Their 17 hectares of vines extend on the superior slopes of the appellation, above the village of Chanos Curson. This, in turn is divided into 13 hectares of Syrah, 2.5 hectares of Marsanne and 1.5 hectares of Roussanne. Everything is vinified in their new cuverie, built to accommodate the 2013 harvest.
They produce 6 wines. The three whites are named after their respective lieux-dits and receive the same vinification in new 400 litre new oak barrels with full malolactic. Despite the systematic use of new wood, the whites are all very discrete, with site and variety more expressive than the oak. Hauts de Motte is 100% Roussanne, whilst La Motte is 100% Marsanne, both grown on limestone soils. Les Pends is also all Marsanne, but planted on granite-based soils on the slope between Chanos Curson and Mercurol.
With the reds, Les Voleyses is a parcel planted on limestone soils in 1986. This is fermented in concrete but transferred to stainless steel for its short ageing period. La Motte has an average of 10% Marsanne blended back into the final wine, whilst the Syrah component is aged in new oak. The white is used mostly to temper the effect of the wood and create a fine balance. The make-up of the Cuvée Marius enjoys the same vinification and red-white proportions but is from a different galet, clay and limestone-based parcel planted in the late 1980s which takes its name from the original vigneron proprietor.
White
Red