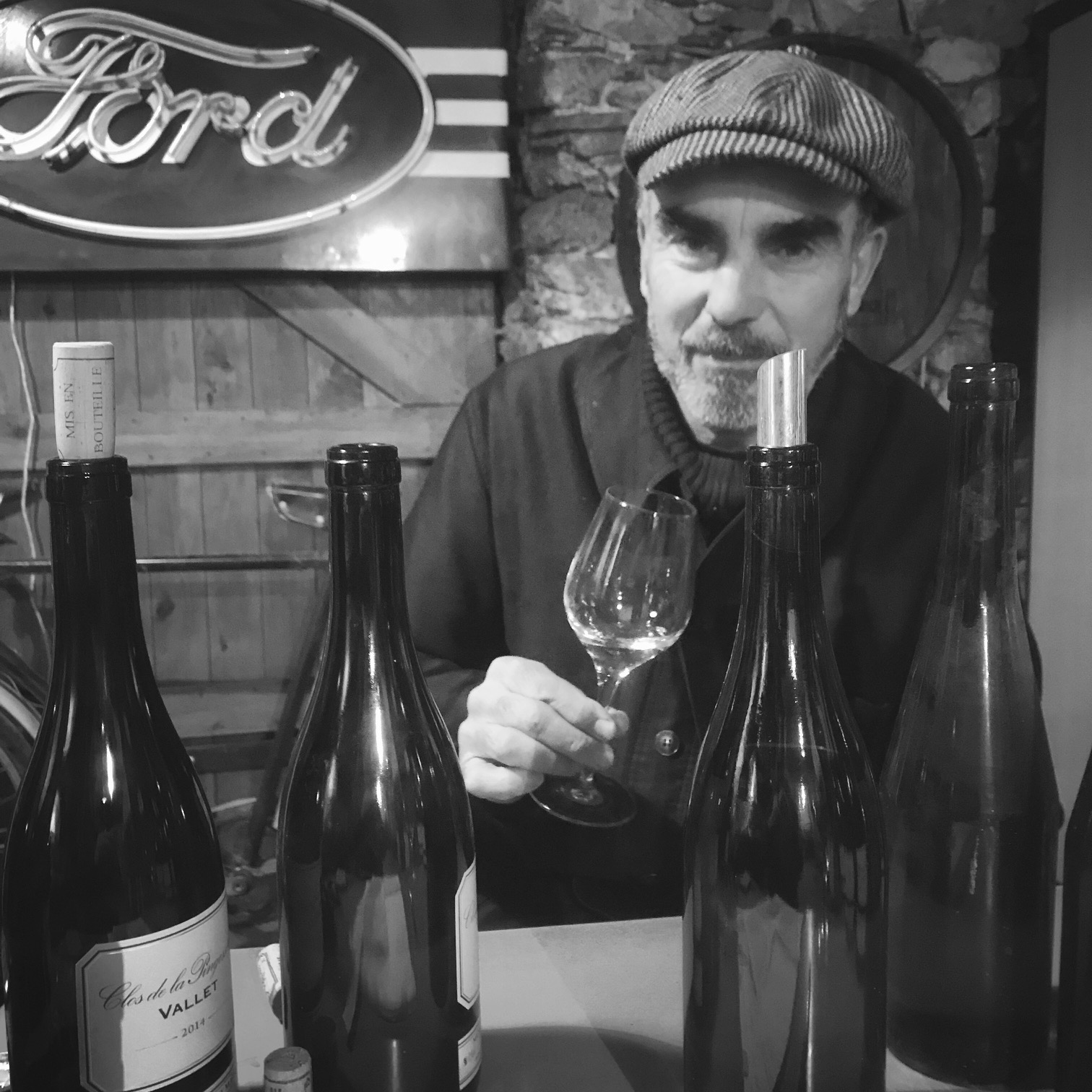 An audience with Philippe Guérin was the highlight of my research trip to the Nantais in December 2018. Quiet, unassuming and a fan of vintage Ford cars, amazingly, he has never exported his wines before and I consider myself lucky to have discovered him.
Located in a quiet hamlet north of Vallet, Philippe is the 5th generation of his family to farm 30 hectares of vines within the communes of Vallet and Goulaine. Of these, 23 hectares are dedicated to the production of Muscadet, with the oldest vines approaching 90 years of age.
The balance is made up of more commercial varieties which are sold as either Vin de pays or Vin de France, depending on the yields Philippe elects to take off the vines. These varietal wines are produced from Merlot, Chardonnay and Sauvignon and are usually sold off to the négoce. The Sauvignon vines were planted in 2003 and are now starting to be attached by esca. No Chardonnay was produced in 2016 and 2017 as the crop was lost to the late frost.
The harvest is done with a combination of hand and machine.
These are some of the most profound Muscadet wines I've ever tasted with the basic wines are produced from vines planted on both schist and gabro. Apart from classic Muscadet 'sur lie', there are two single commune wines, Clos des Blanchetières and Clos de la Pingossière, both derived on granite-based soils and form part of the new cru system in the region. These wines spend at least 36 months on their lees before bottling.
No labels for the Vin de France wines existed, so we helped Philippe to create his own under the title 'Abstraction', to which we added the classic Muscadet. There are now four wines, although this may be extended further, since Philippe is one for experimenting and innovating.
Our relationship coincided with the arrival of the 2018 vintage. The best (and largest) harvest seen in a generation. The last great year being 1989. Those with long memories state the best since 1947. In this year, the wines achieved a natural alcohol of around 13-13.5% alcohol, something that has never been seen in the region.
Unfortunately, the 2019 vintage was less kind to Philippe where he harvested even less than in 1991, a vintage decimated by frost. In 1991, the domaine harvested 20hl/ha, compared to just 11hl/ha in 2019. Within a period of four years: 2016, 2017 and 2019, only 2018 has been spared. In addition to the frost, the 2019 Sauvignon crop was hit by drought.