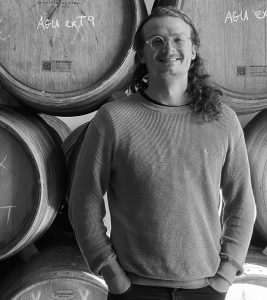 Sam Lambson is proving to be one of the bright young stars of the Cape wine scene, having developed a particular love (and following) for cool climate Syrah.
We first met in May 2018 soon after he had just turned 21. He was in his final year of a BSc Oenology degree at the University of Stellenbosch. Sam had just rented space in the university's historic Welgevallen Cellar (located literally next door to the late Abraha Perold's house and site of his experimental nursery for new vine crossings) and had just made his first batch of wine.
Sam had used his savings made from a bunch of early entrepreneurial business ventures to source some exceptional Syrah grapes and, in return for him lending a hand elsewhere during harvest time, fellow winemakers had helped him out by sharing access to their fruit sources and by donating old barrels and tanks.
Sam grew up in Johannesburg within a family with no vinous connections. He rather stumbled into wine via a family friend whilst he was still in high school. The cathartic moment came after tasting a bottle of Jamet Côte-Rôtie 1998, a wine that has inspired his winemaking path ever since.
In deciding what to study at university, he had considered both chemical engineering and law, but elected instead to study winemaking in Stellenbosch. To help finance his course and to fuel his ever-growing interest in wine, he took a part-time position in a wine shop in Stellenbosch which proved to be the perfect place to meet, and learn from, the Cape's most talented winemakers. In addition, during his studies, Sam also found time to work the harvests under Carl van de Merwe of De Morgenzon (2017) and Lukas van Loggerenberg (2018).
That initial meeting led to us shaking hands on future UK distribution, with his first release of Stars in the Dark (from the 2018 vintage) creating a notable stir in the market some 12 months later.
At the same time, I introduced Sam to Chris Alheit, with whom he worked a stage during the 2019 harvest, with Chris allowing Sam to make the second vintage of Stars in the Hemelrand cellar.
Beyond that, Sam has made his wines in various cellars. In fact, I suggested at one point that he should perhaps drop the name 'Minimalist' in exchange for 'Nomadic'…
In 2020, he shared the Karibib facility in Polkerdraai, then migrated across the road to Cathy Marshall's cellar for the 2021 and 2022 harvests, whilst also using facilities at Monterosso in Stellenbosch and Oneric in Elgin to store wine in tank and barrel. The future plan, however, is to firstly take control of his own winemaking destiny and open up an urban wine cellar in the fashionable Woodstock district of Cape Town's southern suburbs.
Stars in the Dark has been consistent since the beginning with Sam's tribute to sourcing fruit from the rugged terroir of Cape Agulhas. There are currently four hectares under contract, with the potential to grow this to seven hectares over time, although Sam sees no reason to have to plant any vineyards here himself.
More recently, the range of cool climate Syrah's has developed into a range of three wines.
No Place Like Home is a clear expression of the cool-climate Elgin Valley and is a wine sits very comfortably alongside Stars in the Dark. As Sam states: 'Syrah is a varietal that's at right at home in Elgin. Apples too. So, it's a big ask to keep vines in the ground when farmers can earn three times the profit if they pull vines out and start planting more orchards instead'. Three prime parcels have been lost this way but, by leasing 3 hectares to farm, Sam has a place in the Valley to call Home, and it's his dream to explore this site to its full potential.
Connect the Dots is Syrah blended from three separate cooler regions: Elgin, Polkerdraai and Agulhas. Whilst this wine has been produced for a few vintages now, Sam has now been able to extend its production.
EXPERIMENTAL WINES
The Experimental Wines are one off-releases and have helped satisfy Sam's ever curious mind for exploring. However, the project has since been abandoned since he has decided that it had become too much of a distraction to the day-job.
For the record, releases have included a White Blend, a distinctive assemblage of Chardonnay (60%), Chenin (18%), Riesling (4%) and old vine Muscat (18%). The Muscat character shows through clearly on the nose and palate, with pithy orange-skin notes, but this is no silly natural-orange wine number. It remains 'clean' and with none of the 'funk'.
Other releases have included a Riesling, Grenache Noir from Bot River and a Chenin Blanc.
In Sam's own words: The Minimalist Wines journey is about focusing on what matters – in wine and in life – which means allowing vineyards to talk without seeking to influence them more than is necessary.