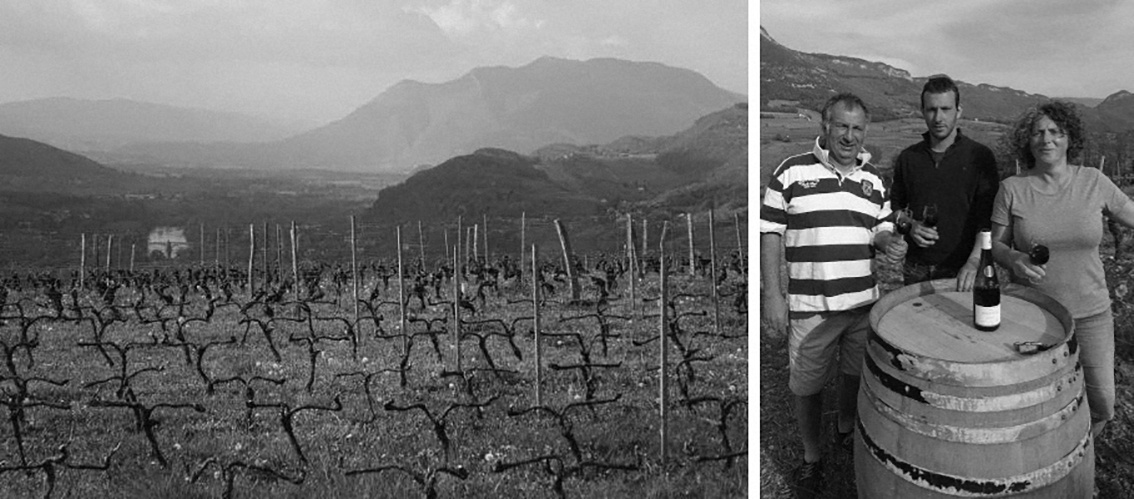 Overview

Located in the foothills of the Alps, the Savoie represents one of the last, great undiscovered wine regions of France. The vineyards are widely dispersed, small communities, clustered together in the narrow alpine valleys, each seemingly with its own specialities in terms of grape varieties it elects (or is allowed) to grow. There are 29 separate communes located between the south shore of Lac Léman (aka Geneva) and the river Isère to the south and eastern borders of the region.
Historically, the white wines have always been stronger than the reds, with 80% of the entire production of the Savoie being sold within the region – to a generally undiscerning public.  The strong local demand has not given producers much incentive to improve quality or compete in finding new markets for their wines.  Savoie's neighbouring region the Jura, to the north-west has gained increasing, international recognition and here things are also starting to change.
Savoie's predominantly white production and lighter reds, offer a fresh, fruity style, often with lower alcohol levels, which can be attractive and approachable for those able to seek them out.
As one would expect with mountain wines, the geology is complex with the best wines generally grown on slopes on limestone soils.
Appellation

Vineyards represent just 2% of the region's agricultural output. It gained appellation status in 1973 and there are currently 1,744 hectares under vine, of which 70% are white grapes.
The generic Savoie appellation allows for 16 different communes to annex their name to the Vin de Savoie label. These include some possibly recognisable names, such as Crépy, Seyssel, Apremont, along with the relatively unknown, such as Jongieux; the home of our protagonists.
Jongieux sits on to the clay and limestone slopes beneath the Montagne du Chat, with views to the south and east, across Lac du Bourget. Jongieux is a natural extension of the Bugey appellation, located directly to the west. In 2010, the commune was declared a Site Classé au Patrimonie National, being situated on the Route de St Jacques de Compostelles. It is unusual in having more red grapes planted than white and is considered one of the best places in the region to plant Gamay.
The Roussette de Savoie appellation was also created in 1973 for wines made from 100% Altesse (aka Roussette). Today, there are 213 hectares in production, some of which comes from four designated crus.  In addition to being recognised sites, these cru also have to conform to stricter controls, both in yield and minimum alcoholic degree:  Monthoux (located to the south of Jongieux), Frangy (on the banks of the river Usses), Monterminod (a tiny vineyard located above the town of Chambéry) and Marestel (whose vines are located above the commune of Jongieux). The Marestel site was first recognised in 1563 and has a total production of around 7,000 bottles per harvest.
Grape varieties
Altesse. This is considered the finest indigenous grape variety of the Savoie and genetically close to Chasselas. At just under 300 hectares, it represents around 14% of the region's vineyard area, with the largest concentration planted around Jongieux. It is late ripening and performs best in vintages where the autumn conditions are warm. It suffers from mildew and rot, both grey and botrytis cinerea, which in some years allows for the inclusion of around 10-30% of noble bunches to become part of the final component of the wine.
Jacquère. Best described as Mountain Muscadet.  There are around 900 hectares planted, which accounts for approximately 40% of the total vineyard area.  This makes Jacquère the region's most favoured variety, even though it is not considered noble enough to have been exported anywhere else around the vinous globe. Since the 1960s, it has been valued more as a cash-crop.  A high-yielding variety, it can be made ready for a quick sale to thirsty locals and a buoyant tourist market. Surprisingly, given the alcohols are generally very low (it rarely exceeds 11%), it is the last white variety to be picked; its thick skins making it rot and mildew resistant. Older, close-pruned vines are capable of producing somewhat more characterful wines. Like Muscadet, most is drunk within one year, although the more serious examples are capable of ageing.
Mondeuse. The local and most famous red variety of the region has around 250 hectares across the total vineyard area, although it remains in second place to Gamay.   The grape fell from favour post-phylloxera, given its parsimonious yields and late ripening, which made it unreliable to deliver a decent crop. More recently, it has enjoyed a local revival, as younger producers look to make authentic, local wines. In the cellar, Mondeuse is adaptable and can be vinified using carbonic maceration, or more traditional methods or, with partial de-stemming, or something in between. It also adapts well to oak-aging, given the tannic nature of the grape. Generally, it has a juicy acidity, low alcohol and a slight bitter cherry fruit profile.
Gamay. Not native to the region, Gamay was adopted post-phylloxera as a more reliable producer. Little has been planted since the 1990s and is now on the decline. As one would expect, Gamay presents us with a credible, although an unremarkable alternative to Beaujolais. The best wines are said to come from plantings around Jongieux.
Other varieties: Although Roussanne (aka Bergeron), Chasselas and Aligoté are planted elsewhere in the region, none is produced by Chevallier Bernard. Other lesser-known varieties include the rare Persan, La Mollet and Gringet.
Domaine Chevallier Bernard
Chantal Chevallier met Jean-Pierre Bernard at the Lycée in Beaune. She originates from Savoie, whilst he was raised in the Beaujolais. Prior to 1996, Chantal worked as a vineyard consultant in the Beaujolais, whilst Jean-Pierre ran a négociant business in the region.
Chantal's parents Marcel and Francis, had moved from mixed farming in 1970 to specialise in vineyards, selling all their crop to a local négoce, which formed the business that Chantal and Jean-Pierre inherited in 1996. They took over the eight hectares of vines in Jongieux and within a couple of years, they had built the vineyard holdings up to twelve hectares. When their sole customer then stopped buying, they switched to bottling their own wines and began slowly building up a core list of private clients.
They built a new cellar in 2004 and extended this further in 2014. In 2016, their son, Antoine, joined the operation, after completing his studies in Mâcon. By then, they had become the first domaine in the Savoie to be HVE (Haute Valeur Environnementable) certified.
Today, they work thirteen hectares in the commune of Jongieux. There are two hectares of Altesse, with 0.75 planted in the cru of Marestel, plus a similar amount of Mondeuse, with the balance made up of Jacquère and Gamay. They have a modest planting of Chardonnay and Pinot Noir, grown in Billième, just to the south of Jongieux, used in their tiny production of Crémant de Savoie. Everything on the domaine is hand-harvested.
The cellar is equipped with stainless steel and fibre-glass tanks, with a few barrels for the oak-aged Mondeuse. No malolactic is allowed on the white wines and their easy-drinking Jacquère comes from 3.3 hectares of 35 year old vines. The Gamay (which is also vinified as rosé), is whole bunch pressed. The Mondeuse is partly de-stemmed, to help retain the peppery, spicey profile of the finished wine. There are two examples: one in tank and one aged in oak.
In 2021, Chevaller-Bernard was recognised at the 'Winemakers of the Year' for the region in the Guide Hachette.