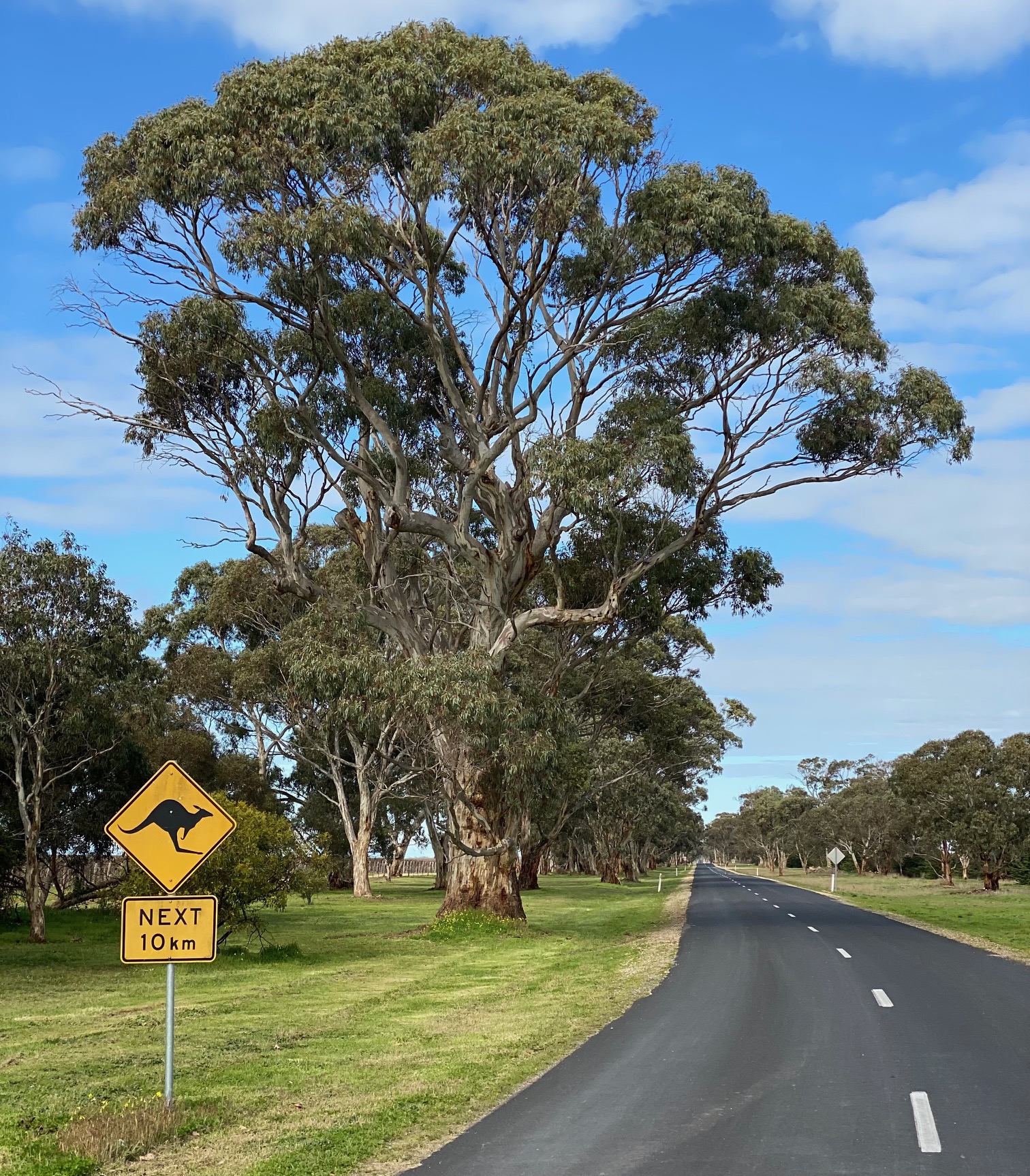 BAROSSA VALLEY
The Barossa is a paradox. It is probably the best-known wine producing region in Australia and, with companies such as Treasury Wine Estates (Penfolds), Accolade and Yalumba all have their head offices in or within reach of the region, is destined to remain so. But that is only part of the story. Barossa as a region is responsible for producing less than 10% of the Australian annual wine harvest.
Located less than an hour drive north of Adelaide, the Barossa can draw direct comparisons to its peer regions of Sonoma and Napa (an hour north of San Francisco) and Stellenbosch (less than an hour north-east of Cape Town). The region runs on a 30-kilometre north-south axis, with the Barossa Valley Highway serving as its central spine. Sub-regions include Rowland Flat, Nuriootpa, Seppeltsfield, Lyndoch, Tanunda and Angaston.
In an era when cool climate viticulture has become fashionable, the Barossa with its perception of overly alcoholic wines has become a little passé of late. Whilst winters are cold, spring is usually mild but wet, the issue has always been with the very hot weather that can arrive from central Australia during the height of summer.
Soil type is mostly brown, loamy sand and clay, suited to moderately fertile viticulture. The heat and low summer rainfall are generally the reasons why, unless one has access to drip-irrigation, vines are pruned hard to reduce stress and restrict yields.
Shiraz is seen as the premium grape of the region, primarily due to the reputation of the likes of Penfolds 'Grange' which although might be vinified in the valley is not exclusively from Barossa fruit. That, and the fact that the region has been growing the variety (and still has Ancestral Vines to prove it) since the first half of the 18th Century.
Cabernet Sauvignon follows on behind, although it is often blended with grapes from other regions. The Cabernet boom existed during the 1970s and 1980s, somewhat to the detriment of old bush vine Shiraz, when many ancient plantings were lost. Old vine Grenache is also found, with some sites as old as their antique Shiraz counterparts.
Chardonnay is still regarded as an 'orphan' here and, where it does exist, is likely to become part of a multi-regional blend. Old vine Semillon continues to be grown but remains a hard-sell commercially, and often over-looked with consumer preference going to examples from the Hunter.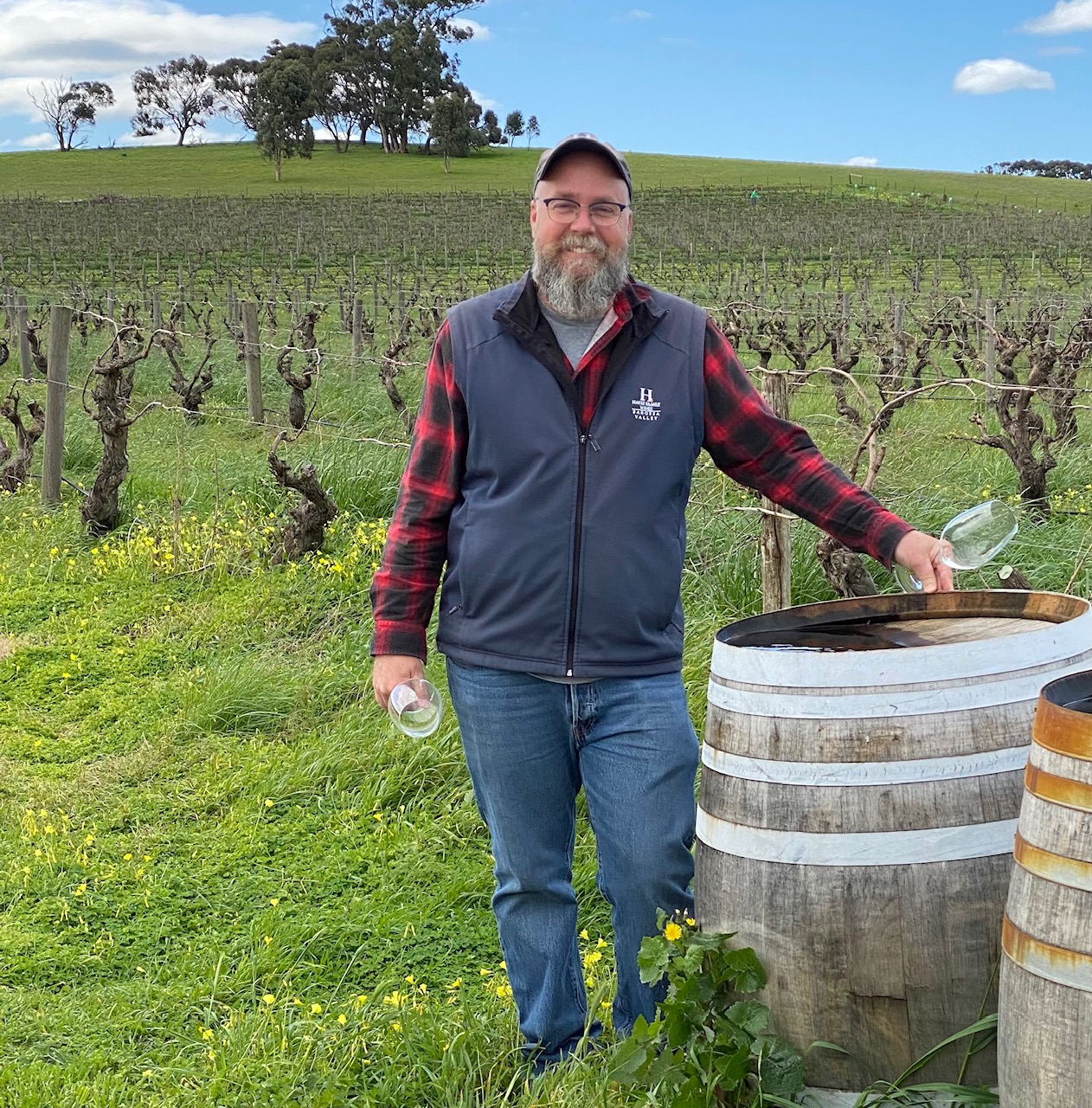 HAYES FAMILY WINES
Hayes Family Wines is a small-scale, family owned and run producer in Stone Well in the heart of Barossa. In the greater scheme of the region, it is a start-up business, having only been established as recently as 2014.
The man behind the name is Brett Hayes. Born in Brisbane, Queensland (not a State known for the quality of its vineyards), Brett had been visiting the Barossa for 35 years, before relocating here with his wife, Kylie and two children: Sam and Alice. Their family home is on the property of one of their grape suppliers, the famous Schulz Primrose vineyard in the sub-region of Ebenezer at the northern end of the Barossa.
Clearly, being born in Queensland, Brett was never destined for a career in wine. After completing a Bachelor of Commerce Degree in the early 1990s, he became a business partner in a major consulting firm, operating businesses throughout the Asia-Pacific region.
His regular visits to Barossa, however, saw him develop a long-term friendship with Andrew Seppelt, whose family is wine royalty in the parts. Not only has Andrew been making wines in the region since 1995 (notably as GM and winemaker for Torbreck Vineyards), he also helped introduce Brett to owners of some of the Barossa's oldest vines.
Along with Amanda Mader who loves after the Estate vineyards, Brett and Andrew manage both the winemaking and the commercial aspects of Hayes Family Wines.
The cellar and Estate owned (organically and sustainably certified) vineyards are in Stone Well, a sector of Barossa on the east side of the North Para River, between the towns of Tanunda and Nuriootpa. According to Brett, the property has exchanged hands some 18 times since the 1860s.
The winery is something of a makeshift operation, set up for micro-vinification, with grapes sourced from multi-generational vineyards. The couple, who together best resemble members of classic 1970s rock trio, ZZ Top, are clearly either mad or must really love what they are doing. In the 2021 harvest alone, they vinified a total of fifty different cuvées in their tiny little cellar. On average, the pair crush around 50 tonnes of grapes during the season.
Of the wines produced, the Shiraz is sourced from vines that age between 70 and 160 years old. Similarly, their Grenache wines are from vineyards that are between 70 and 130 years. Given the age and the geriatric nature of the vines they are working with, almost everything is pruned and harvested by hand.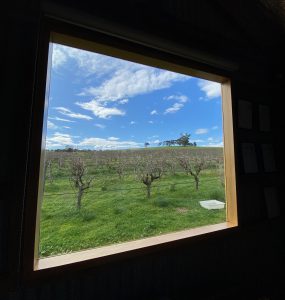 The range, as sold from the tiny cellar door salesroom (an old converted far shed), is never less than 40 different SKU's. Navigating a tasting with Brett is something of a vinous challenge, with a line-up that includes a token Chardonnay and two site specific Semillon, then carries on through numerous single-vineyard yet multi-regional bottlings of Shiraz, Cabernet Sauvignon, Mataro and Grenache. The tasting concludes with a range of fortified wines, consisting of rare vintage Rutherglen Muscat, very old Tawny and aged Barossa Brandy.
RECENT VINTAGES
It would be opportune here to pass brief comment on recent vintages.
2016 – a great vintage
2017 – wet and 'muddy'
2019 – a 'classic' Barossa year
2020 – the year of major bush fires and days of 47-degree heat. Three years of drought conditions also played a part, with yields down by 90% this vintage. Only 3 tonnes off 15 acres was harvested and much of the wine from this year was affected by smoke-taint.
2021 – The best year in 30 years, notably for Grenache and Mataro.
2022 – A very late vintage with high acidity. They were still harvesting Shiraz in May.
THE WINES
Given the enormous range, these notes refer to the wines that have been shipped to the UK for the 2023 campaign.
VINEYARD SERIES 'PRIMROSE' CHARDONNAY 2022
This vineyard is located at 400m elevation in the north of Barossa, in the hamlet of Ebenezer. It is also believed to be the oldest block of Chardonnay in South Australia. Just one barrel is produced each vintage.
'FROMM' CENTENARIAN VINEYARD SEMILLON 2021
Sourced from the Fromm vineyard close to Williamstown in the southern part of the Barossa. The 'term' Centenarian' is an officially recognised classification for vines that are older than 100 years. These easily qualify at 110 years of age. The vineyard is on a 10-year lease to Hayes. The harvest here is around 6 weeks later than in the Hunter, although it is a conscious decision to pick the grapes late and when fully ripe. Production is around 2-3,000 bottles per year.
'SAMS' GRENACHE 2021 BAROSSA VALLEY
Named after Brett and Kylie's son. The wine is sourced
from a selection of sites. Brett describes it as a blend of 'northern Barossa power (Koonunga), coupled with the fruit and juiciness of the 'Fromm' vineyard in the southern range, close to Williamstown'. This 'entry level' wine produced just two barrels (400 bottles) this vintage.
VINEYARD SERIES 'KOONUNGA' GRENACHE 2021
An isolated block of old bush vines, farmed by Ian Becker's family for generations. Its management was taken over by Adrian Hoffmann (another grape supplier to Hayes) in 2020.
VINEYARD SERIES 'PRIMROSE' MATARO 2021
Also sourced from the northern end of the Barossa in Ebenezer. Just 700 bottles produced.
ESTATE FIELD BLEND 2022
From 'Block 8' at the top of the 'home' farm at Stone Well. This is a one-acre vineyard planted to Grenache, Shiraz and Mataro (a classic GSM blend). Co-fermented, this is the last vineyard on the farm to be harvested. Remarkably, all three varieties ripen at the same time. Production is around 600 bottles per vintage.
GSM 2021 BAROSSA VALLEY
This is a Grenache dominant blend, all from grapes sourced in Ebenezer. Production is around 3-4,000 bottles per vintage.
'THREE KINGS' 2021
Another GSM, but this is a selection of the three best barrels of each variety in the cellar from any given vintage. In this year's blend there is one barrel of Grenache from the Becker vineyard, one barrel of Shiraz from Hoffmann and one barrel of Mataro from Schultz. Each name is that of the specific grape grower. Blended and aged further in puncheon. Production in 2021 was 1,000 bottles.
'STONE WELL' ESTATE SHIRAZ 2021
This is a blend of 5 primary Shiraz blocks on the farm: Block 1,6,9,10 and 11. Both the vineyard and the resulting wine are Certified Organic. The soil varies significantly across the blocks, with different depths in topsoil. The vines were planted in the late 1940s and established on their own roots.
'KOONUNGA' ANCESTOR VINE SHIRAZ 2018
'KOONUNGA' ANCESTRAL VINE SHIRAZ 2020Two vintages of the same wine. There is an official classification when referring to a wine as 'Ancestral'. The vineyard needing to be at least 140 years old to qualify. This vineyard was planted sometime in the 1870s, although no formal records exist. It now forms part of the extensive Hoffmann family portfolio.
The 2018 vintage was the first to be produced at Hayes, with only a single barrel (400 bottles) being produced. The 2020 vintage yielded 800 bottles.