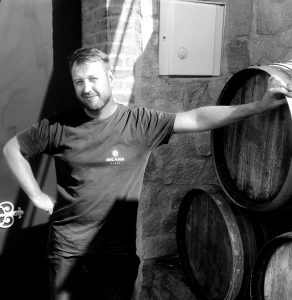 Aurélien Chirat is a fourth generation grower whose cellar in St-Michel-sur-Rhône is at the confluence of the Condrieu and Saint-Joseph appellations. His father, Gilbert, finally gave up his polycultural farming activities in 1984 to concentrate on viticulture, selling wine to the likes of Marcel Guigal. Aurélien joined Gilbert in 2008 and took control of the cellar in 2018. He still retains a relationship with Guigal, selling them Condrieu grapes in return for secondhand barrels. 
Today, they control 9.5 hectares of vines, with 3ha located on the best terroir of Condrieu. Les Chays is the colloquial name for the walls on the steep terraces. Clos Poncins has Roman origins and borders Château-Grillet. Both wines are fermented identically: started off in tank, 85% of the must is then transferred to foudre, of which 25% are new. The vinification of the Saint Joseph is the same, with the blend here being 60% Roussanne and 40% Marsanne. The vines are located above the commune of Chavanay. Not to be overlooked is the 'off-piste' Viognier; effectively de-classified Condrieu grown on granite slopes at the top of the terrace. This is fermented in stainless steel tanks.
The equivalent 'off-piste' Syrah comes from just outside the Saint Joseph appellation and is aged in older barrels. Les Chirats Syrah-Viognier is a field blend based on the classic 9/1 vine ratio. This is fermented in tank on Condrieu lees. The wine is destemmed and enjoys a short, 10 day cuvaison. There are two different expressions of Saint Joseph: Les Côtes is also from Chavanay vines, whilst the Soliste is from a single parcel further south in the appellation. This sees more, new oak and is built for ageing. Finally, the Côte Rôtie is part of a vine-swap initiative with a friendly vigneron in Ampuis and is located next to the famed La Ladonne on the Côte-Brune. Our first experience of this was by the glass at La Pyramide in Vienne.
White
Red